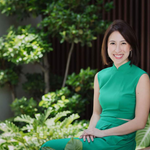 She's the sweetest lady that you always see behind Nodspark's pop-up booths --- Eugenia Ye-Yeo --- mom of two little ones, and boss lady behind Nodspark, shares snippets of her journey building Nodspark, and how being a mother has given her some multitasking superpowers. 
Nodspark has evolved over the past two years. Can you tell us about your journey since starting Nodspark?
It has been very humbling and quite a steep learning curve since starting Nodspark. We have not only expanded our offerings in terms of designs, but we have also expanded our team and our website's content as well. We started out doing designs that were safe and what we know would be a hit with customers, but we have since been a lot more daring and tried out a lot more styles! 
Can you describe a typical busy workweek for yourself?
I have about 3 to 4 external meetings with partners and corporate enquiries in a week; we also have about three team meetings in a week as we are in a fast-paced industry and we are always reviewing our designs, direction, and priorities as a team. These take up about half the week, and the rest of the time is spent replying emails, packing orders (packing orders help me to de-stress!) and coming up with new ideas. 
Tell us about how your customers bring joy, and keep you going?
Seeing how our customers' face light up once we show them how applying Nodspark is being done, and the countless of positive feedback that we receive even when in a casual conversation, is what keeps us going. We thrive a lot on our customers' energies too. We have a very lively and enthusiastic community, and their excitement makes us want to do better and go the extra mile when we can. 
You have so many special collaborations! What have been some of your favorites close to your heart, and how did they happen?

One of my favourite collaborations has to be the one with
Say What With Friends
! I got to know the illustrator Lilian through a work event that we were both participating with, and I immediately loved her designs and what she was doing, which was to promote learning dialects through card games. I could immediately see her art work on our nail wraps- and how it would be a very quirky nail design set. I think that was also our very first collaboration set! From then on, I had a lot of appreciation for collaborations with other brands that aligned with us. That being said, I LOVE all our collaborations! It takes a lot of time to do them, but it's always very rewarding and I don't regret them one bit.
Can you tell us a little about Nodspark's design inspirations?
We are constantly inspired by the things around us, be it the seasons, the places that make us happy, or the food that we love to eat. The sky is the limit for what we can do, and we love exploring new concepts, ideas, and designs.
How has being a mother helped shape you as a ladyboss?
I think being a mother has helped me be a lot more efficient as a business owner. I try my best to leave the office on time, and even have to kick my staff out of the office because I have to leave. I always tell the team and myself, that we are here for these few hours in a day to work- make it count. We work hard, and we play hard. I also have very little time for any drama, so we focus only on what's important and move on. It's partially my character, and also partially being shaped by being a mother to prioritize my day well.
What are some mistakes that you've made as an entrepreneur?
Being too careful and taking advice from others too seriously. I've come to learn that you can do business any way you want, as long as you remain true to your brand voice and your community. 
What is your wishlist for Nodspark in the next 3 years?  
That we continue to produce amazing products for our growing community always, and at the same time, be a safe space for our team to grow as a person and develop their skills. I believe that when we thrive well on the inside, that it will reflect in what we produce :)