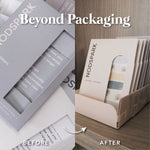 Being sustainable has always been a goal close to our hearts. One thing is for sure: the beauty industry is not pretty when it comes to its waste. Nodspark too, has a long way to go, but as a growing, homegrown brand, we have been taking special steps toreducing our impact on our environment, and we are excited to invite you to partner us on this.


In our beginning years, we invited you to earn a discount by returning us your used packaging. And while so many of you faithfully did so, we wanted more. We knewthat we needed a more fuss-free solution for everyone, especially as we scaled. We want our customers from far and wide beyond Singapore to feel included in this mission.


And so, we were riddled with this question: How might we reduce our packaging waste while ensuring that it was a win-win for all?


Our search for the Holy Grail answer brought us back to our roots. If we dig deep into our growing years, we'd realise that our grandparents lived and breathed sustainability many decades before the zero-waste movement was even heard of. Finishing that jar of peanut butter?You bet our grandmothers would be reusing that jar the very next day! 

And so, it was natural that Nodspark's new packaging is heavily inspired by Eugenia's late grandmother's paper boats, which she oh-so-faithfully folded from old magazines. She probably would never have considered herself a green champion, but given that her stash of paper boats lasted her family 4 years after she passed on, there's so much that we can learn from her dedication!


Reducing and reusing are far more effective than recycling in the sustainable hierarchy, and so we knew that we were on the right track.


How many of you find this paperboat familiar? A popular habit amongst the elderly in Singapore, that's
for sure!

Here are some glimpses of what went on behind the scenes - - a year-long journey, no less!



Eugenia's father was roped in to translate the paperboat idea to a construct, which the Nodspark team digitalised.



Refining is hard work! A fraction of the 30 to 40 prototypes that the team worked on.
Say goodbye to single-use Nodspark packaging, here's how you can transform it into a box!


In reusing them to declutter your home or office, we hope you'll find joy in upcycling our packaging! Nobody can save the world overnight, but we can all make a difference.