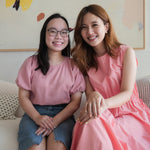 An International Women's Day Feature
As we celebrate International Women's Day this 2022, our team at Nodspark wanted to do something different - on top of celebrating women and our accomplishments, we also wanted to highlight the importance of having a healthy work environment that supports women in the workplace. 
Nodspark's 2022 IWD Campaign mission that we adopt from the International Women's Day website (out of their many missions), is to forge inclusive work cultures where women's careers thrive and their achievements are celebrated.
Partnering with 4 local brands and featuring one each week, we spoke to their respective founders and employees, to understand more about the brand and what cultures they have in place, as well as how they represent and communicate with women in their company.
(Bing Wen, Marketing of Jung Beauty; Jung Ming, Founder of K-Sisters)
About Ksisters
Ksisters is a one-stop shop for a collection of handpicked and curated Korean Beauty & Fashion products by founder Jungmin. Launched back in 2016, Ksisters started off with Korean Fashion and has since expanded into introducing trusted Korean Beauty products as well as everyday lifestyle products.
JungMin believes in genuine reviews and always makes sure to run thorough tests within her team and consumer testers before bringing the products in to launch in Singapore. As not all Korean raved products work for Singapore's hot and humid weather or for various skin types, Ksisters also ensures that their products work for the majority of their consumers living within our climate too.
On Jung Min (left): Sunrays Colour Chart
On Bing (right): Bronte Gold
We had a chat with Jung Min, Founder of Ksisters and Bing Wen, an assistant marketing manager of Jung Beauty, to understand more about their work environment.
Jung Min
Founder of Ksisters, Jung Beauty
How have you created a positive workplace environment for your female team members to thrive?
Even though our company is small, we highly regard the company's vision and values, and take pride in clearly portraying and embodying it. Ownership, Integrity, and Trust are the values I try to drive. When the company's vision and values are in line with the individual's values, it is so much easier to motivate them to work together towards our goals.
How would you encourage other female led businesses to adopt similar practices, and why?
It took me a few years to think about our vision and values, but once it became clear it was so helpful in the decision-making within our business, because both team members and I are now spearheaded in the same direction.
I would also encourage spending some time to set the tone right for everyone, in terms of aligning your values - it is a worthy investment. 
Bing Wen
Assistant Marketing Manager, JUNG Beauty
What's your role at work?
As an Assistant Marketing Manager at Ksisters, I currently handle marketing for Jung Beauty and K-Beauty brands for ladies in their 20s-30s. I've also been with Ksisters for about 4 years now.
How do you feel your company's ethos and culture has empowered you as a woman at work and/or outside of work?
Jungmin always encourages everyone to voice our opinions, so as to help team members solve any difficulties they may face. We respect everyone for who they are, and practice transparency so our work processes are always efficient and mistakes are not repeated. We focus on solving issues together rather than finding fault in others.
What do you hope that more workplaces can adopt that your workplace has done right to support women?
It would be taking care of the well-being of female employees. For example, whenever a team member experiences severe period cramps, our manager would allow us to work-from-home. Team members who are mothers can also work-from-home if their child is ill and nobody else in the family is available to take care of the child.
I think having supporting the needs of women is important, and tailoring work processes to their needs even in the small ways like this - makes a difference.
What's one piece of advice you have to female friends who are struggling to have their voices heard at work?
I would encourage my female friends to talk to a female team member to find out how they can support each other. If the situation does not improve, they may speak with their manager to find the best solution.
Designs featured: Bronte Gold (above) and Sunrays Colour Chart (below)
Launching on www.nodspark.com on 10 March 2022.
Always on the lookout for more like-minded people to join their team, Ksisters also has some job openings available:
Jung Beauty Brand Manager
To govern the brand "Jung Beauty"

Develop new initiative for next 2-3 years with best Korean manufacturer

Lead market execution in Singapore
Assistant Marketing Manager
In charge of 5-6 Ksisters brands

Lead new product launches and promotions end-to-end
Marketing Intern
Support the Assistant Marketing Manager for all marketing executions
If this is something that interests you, do click here to apply!
Specially for our readers, Ksisters has also kindly shared a discount code with us -
Enjoy 10% off 5 regular-priced Jung Beauty products, with the code "NODSPARKXJB10", valid till 31 March 2022.
Special thanks to Jung Min and Bing Wen, for being part of Nodspark's 2022 International Women's Day Campaign to highlight forging inclusive work cultures for women! ♥