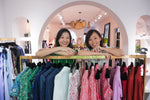 An International Women's Day Feature
On top of celebrating the accomplishments of women in the workplace, our team at Nodspark wanted to highlight the importance of having a healthy work environment that supports women as well. We felt that showcasing the different work environments might create a change in mindset of what a workplace should "be like".
Nodspark's 2022 IWD Campaign mission that we adopt from the International Women's Day website (out of their many missions), is to forge inclusive work cultures where women's careers thrive and their achievements are celebrated.
Our third local brand feature is well-loved clothing brand, The Missing Piece. We had a grand tour of their spanking new studio space that you'll definitely want to check out too - picture a hugeeee walk-in wardrobe with never ending clothes options!
About The Missing Piece
The Missing Piece is a Singaporean label which makes stylish, flattering and comfortable clothes for real women and their families. Specialising in modern cheongsams with coordinated options for families, TMP's pieces are made in soft and breathable fabrics, which are great for Singapore's balmy climate. Whether it be formal, casual or daily wear, they pride themselves in ensuring that the TMP lady is always effortlessly stylish, chic and comfortable. 
Ee-Ling Fock
Founder of The Missing Piece
How have you created a positive workplace environment for your female team members to thrive, and separately to work cohesively?
I try to consciously place values and a sense of family above all things. I believe in hiring women based on their personal strengths and their values, and as such we always end up with a unique pool of talent that complements each other. They may be at different stages of their lives, but I believe there's something we can learn from each one of them and I try to inculcate this culture within the team. Whether they are fresh graduates who are technically savvy and looking to experience the business and learn new skills or mothers who have a wealth of life experience and are returning to the workforce wanting to try something completely different, there is something to be learnt from each one of them. We are like family and we respect each other's strengths and weaknesses, hoping to bring out the best in each other.
How would you encourage other female led businesses to adopt similar practices, and why?
I think every business owner tries to hire a certain type of person who best complements their own team dynamics. Hire the person with the best attitude and who genuinely wants to help the business, and not necessarily the one with the best resume or experience.
On Ee-ling: Poppy Sonnet | Ilse Dolman Midi Dress - Emerald

On Pei: Playful Blocks
Teng Pei Fang
Sales and Production Manager
What's your role at work?
I am involved in sales and I help Ee-ling manage production.
How do you feel your company's ethos and culture has empowered you as a woman at work and/or outside of work?
I recall the time when my child had just started Primary 1. As a mother herself, Ee-ling encouraged me to take time off work so that I could be present during the recess period when parents were allowed into school on the first day. Little things like that helps ease a working mom's guilt and puts her mind at ease on both the family and work front. It allows me to be fully present at my child's milestone moments, knowing that my colleagues have my back. This makes my colleagues and I very appreciative that Ee-ling has built a healthy workplace culture whereby we value and celebrate one another's personal and work achievements or milestones. 
What do you hope that more workplaces can adopt that your workplace has done right to support women?
Amy Westervelt, author of Forget Having It All, sums up the working mom dilemma: "We expect women to work like they don't have children, and raise children as if they don't work."
I hope that more workplaces recognise the many glass balls that women have to juggle as they go through different stages of their lives, and provide them with more support and work schedule flexibility as deemed fit. 
What's one piece of advice you have to female friends who are struggling to have their voices heard at work?
I would advise them to invest in relationships, cultivate friends at work and support one another. Change starts with difficult conversations.
On Pei: Playful Blocks | Heather Maxi Dress - Fleur
The Missing Piece also has positions open for hire - maybe you'll be the missing piece they're looking for!
We are hiring now for sales and operations personnel who are looking to build relationships and help grow the business in a direction which will leave an even bigger impact.
Drop an email with your interest to hello@iwantthemissingpiece.com and they'll be in touch.
Special thanks to Ee-Ling and Pei for their time and sharing their workplace experiences with us ♥