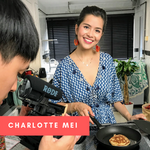 This International Women's Day, we invited our Nodspark community to share peeks of their lives, and how Nodspark fits perfect in their busy schedules. Here are 3 beautiful Nodspark women-
TV + Radio Presenter, Nutritionist and Sustainability Advocate -- Charlotte Mei (@thecharlottemei) is the epitome of inspiration, and we love her healthy but fuss-free recipes on her YouTube channel. Who knew that Tacos, pizza and cake could actually be part of a nutritious diet?
What was the turning point of your journey as a green warrior?
I was raised in a household where I was taught to take or buy only what I need, re-purpose the things I own, and finish the food on my plate (lest my future partner has spotty skin!). It was natural for me to reach out for a napkin at the dinner table instead of tissue paper, and pack a water bottle with me instead of buying a plastic one when I was out. I spent 5 years in Europe where "living consciously" was part of everyone's lifestyle; the shock came to me when I returned to Singapore and saw how most people were ignorant about it. This was when I started talking more about the topic and sharing my "green habits" on social media. I hope for the concept of sustainability to be normalised one day, instead of being seen as an "alternative lifestyle", or something only certain people can be part of.  
What are 4 ingredients you always stock in your kitchen for a quick healthy meal:
Eggs, baby spinach, tofu and rye bread. A tofu scramble is my go-to...and I can eat it for breakfast, lunch, or dinner! Versatility and simplicity is key in my kitchen!
Which cooking show do you binge-watch for inspiration?
I love all of Rachel Khoo's shows! I love how she can churn out otherwise complicated dishes out of her tiny Parisian kitchen!! I love her energy too; I find it very relatable.

(Feature nails: Lucky Pineapple)
Which nail wrap always brings a smile to your face?
Definitely the ones with pineapple tarts! They're my all-time favourite snack (no matter the time of the year), and it's a bonus to be able to wear them on my nails too.

(Feature nails: Peranakan Tiles)


When people notice my nails, they think...
Charlotte is full of spunk, and boy does she have the time to get manicures so often!! (Well little do they know)
When do working mothers (of young ones!) ever find the time for self-care? We're proud to feature Sujata Sheth, who is testament that busy, working moms don't have to choose between running a ton of errands and getting beautiful nails done. Ten minutes flat is all it takes for Sujata, an Emergency Room doctor and a gorgeous mother of two, to have statement nails.
As a busy wife, mother and doctor, how do you find time for self-care? 
I have always struggled with finding time for self-care but I have learned through the years, that if I don't take care of myself, nobody else will. I also believe that when I do take time out for myself, I am more focused, and my day is easier and fun!

(Feature nails: Classic Coral Pink)
If you could give your daughters beauty advice, what would it be? 
Work with what you have! Everyone is beautiful in their own way.
When do you feel most beautiful?
I feel most beautiful when I have taken care of my body by eating well, exercising and following my skin care and nail care routine. 

(Feature nails: Booya)
Your go-to nail wraps for the festive season?
I absolutely love the Halloween and Christmas nail collections. The Halloween glow in the dark collection has to be one of my all time favorite ones.  
I love Nodspark for its...
There are endless reasons but as an Emergency Room doctor and mom, I love Nodspark wraps because they are beautiful, durable, and I can always have nails that look like I just came out of the salon. I never thought I would use stick-on nail wraps but Nodspark has changed that! It is one of my essential accessories.

(Feature nails: Sunfloral Pastel, a collaboration with Some Days At Home by Melissa C Koh)
 A lovely pre-school teacher who is expecting her first child, Amanda Lee shares about her beauty philosophy and how she got her colleagues hooked onto Nodspark. There is no doubt that Nodspark is going to be her permanent style hack after her baby arrives!
Since the last 5 to 8 years, has your relationship with beauty changed?
I think that my relationship with beauty hasn't changed since I am still as lazy as ever. Other than the basic steps of cleansing my face twice a day and exfoliating it once or twice a week, I really haven't done more.
But I will say that I have become more aware of the products I'm using. So while the products are kept to a minimal, I try to use products that are fragrance-free, and paraben-free, such as Avene.
Talking about products, when I was first introduced to Nodspark, I thought it was a pretty genius product! It works like Gelish but takes away all of the harmful chemical side effects of using gel on our nails. The best part of it all was being able to dress my nails up within 10 minutes! Such a great product for lazy people like me who also want the best quality without harmful side effects.
I digress, but after using the wraps, I knew my colleagues would LOVE this product and gifted them each a Nodspark wrap for Christmas last year. They have become converts since then, and are always looking out to get the latest designs once they are launched.
Which Nodspark nail wrap always makes you smile?
Definitely yellow sensu. I find myself going back to that combination of grey and yellow each time I'm unsure of what wrap to use for the weeks ahead (Yes, that's how long the wraps last, WEEKS!). The yellow brightens most of my dark-coloured outfits while the grey geometric lines make the entire print modern and classy! Yellow sensu is definitely a nail art design I'll keep going back to.
When do you feel most beautiful?
Over the weekends. Superficial as it may seem, putting on a pair of contact lens, drawing my brows and putting on a nice pair of earrings make me feel beautiful. Thankfully on weekdays, I have my Nodspark nail wraps on to keep me looking "dressed up".
Two things that perk up your days right now?
Milo & fried bee hoon from Killiney.
My best self-care secret is…
SLEEPING. When you work in the early childhood industry and need to receive the children before their parents head off to work, being able to sleep in and wake up after the sun rises is such a luxury.
Thank you, and Happy International Women's Day ladies!