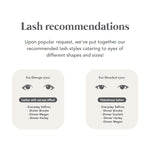 With over 15 designs of lash styles to choose from, we know that choosing your first set of Lashes On Demand can be a little tricky. We have listed out some tips in hopes to help sieve through what you're looking for!
1. What will this lash set be used for?
First up, you'll have to decide where you'll see yourself wearing the lashes- will it be for light activities like running errands, or doing school runs? If so, something on the lighter side might be worth considering. If you are looking to wear the lashes for formal work events or special occasions, then we'll suggest to get something that is a little thicker for your eyes to stand out and be more defined. 
The chart above shows how light or heavy the lashes are from the most natural looking lashes, to the heaviest sets. 
2. Lash style preference, if any
Next, you'll need to ask yourself what your lash preference is:
Do you prefer a shorter or longer lash length?
Do you like them with a gentle curl or a more defined curl?
These specifications can be found on each lash style's product listings. The colour of the lashes can also be found there, as some users prefer brown lashes over a full black set. 
3. Lash recommendations based on eye shape
If you do not have a lash preference and have no idea what your preference is, you could use the following chart to see what lash style might suit your eye shape. 


4. Tips to take note of
Lastly, we have gathered some main tips for you to take note of before you begin your journey with Lashes on Demand! 
We hope you'll be able to find a lash set that'll suit your preference. If you might need some assistance, please reach out to us over on our Instagram Direct Message (DM), or via email hello@nodspark.com. Have fun picking out a lash set or two!