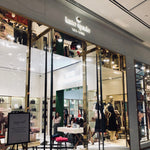 The year 2018 has been a very eventful year for us, growing in product size, as well as services offered. We are very thankful for all the opportunities given from our customers, as well as corporate clients, and we look forward to serving you much better and stronger this year. 
We have pulled together a reflection of the year gone by to celebrate the best of 2018, both big and small wins. We thank you once again for journeying with us!
Nailing our Nail Bar Concept (We couldn't help but be punny!)
Growing up with Kate Spade, we were thrilled to be invited to partner them in a special event in September 2018. We love Kate Spade's whimsical patterns and saturated colours, so our collaboration was truly a magical pairing. T'was such a treat for Kate Spade customers as they left with equally charming nails.
Like us, Love and Bravery has always set out to dress women in modern, everyday wear. Their ethos of being unpredictable, stylish and brave resonates strongly with Nodspark, and we were so excited to collaborate on a photoshoot and offer a nail bar at the launch of their latest branch in Wisma Atria Shopping Mall. We couldn't vouch for a more efficient and fun experience of retail therapy: Shop + Mani – a double win for busy women everywhere!
(Andrea Chong, local blogger and founder of DC Creative, seen trying out our nail wraps during the event)
Creativity is contagious! We love being inspired by creative spaces, and partnering Run After in its relaunch at MOX, Singapore's largest co-making space, was a refreshing experience. Designed for free-spirited women, Run After's feminine pieces were effortlessly paired with our pastel nail shades.
 (Featuring Melissa C. Koh, local fashion blogger and founder of Run After.)
In celebration of strong women and the entrepreneurial spirit, Nodspark participated in CRIB Ball 2018, where our special nail bar service adorned their guests with designs exclusively aligned with the night's theme: Island of Themyscira: Warriors and Goddesses. Hundreds of guests had gathered in support of CRIB's passion for positive social change, and we are proud to have been part of such an extraordinary community of change-makers.
(Dr Elaine Kim, co-founder of CRIB, displaying their customised CRIB Ball nail wraps.)
Pampering You & Your Team
What better way to bond as a team than to have an intimate Nodspark nail party? As users of their lovely products, we couldn't miss the opportunity to spend time with Singapore's flat lay queen and her awesome team! The Paper Bunny is one of Singapore's most gorgeous stationery and lifestyle brand. With their sharp eye for design, they had much fun mixing and matching our Nodspark designs. And of course, Jaime (The Paper Bunny's Founder) worked her magic on her #Nodsparkers flat lay!
Oh, how far we'd all go when female entrepreneurs support each other! E & S Blessing + Truly Enamoured held a pampering afternoon with Nodspark for the working mothers in their teams. We fell in love with Truly Enamoured's oh-so-charming space (those gowns! that arch!). This should definitely be a weekly ritual for all working moms – yes?
Saying Hello at our Pop-Up Markets
Being part of Public Garden and the Boutique Fairs are annual highlights for us; little beats the joy and exhilaration of meeting our community of #NodsparkAddicts!  While we ran on crazy adrenaline each time, we loved saying hello to all of you, and we made so many new friends! Oh, what fun!
Thank you all for being part of our 2018!