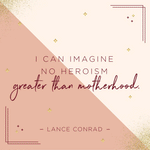 This gift guide is for your mom, or the mother figures in your life -- or your wife! (Husbands, are you reading?) 
Gifts Under $50
Because a 10-minute DIY manicure would make her heart sing -- Okay, we're biased. But efficient products are the holy grail these days. Nodspark Mother's Day Set: Buy 3 packs + 1 top coat bundle at $50 (UP. $60).


Elegant lipsticks formulated for our humid weather -- perfect for mothers who want to look like they've had 8 hours of sleep! Plus it's on sale! $10 from Inga Cosmetics.




Because metal straws are not enough for the environmentally-conscious Mom, beeswax wraps add a touch of charm to her cosy kitchen. $31.90 for a Pack of 3.


For the mother who reads all the ingredients of her cleaning products. You couldn't get her anything more natural than these. $34.50 at Soapnut Republic.


What would make her eyes sparkle as she smiles? Magnetic prints of her favourite photographs of her little ones. A set of 6 for $28.
Gifts Under $70




Something for the modern cane users: practical, and not lacking in aesthetics -- $59 from Cane Art, sold on www.hafbox.com 


An intriguing watercolour art lesson - - because she had buried her youthful dreams to raise the family. $50 at Ktizo.                                                                                    
For the mother who is extremely house-proud, and a traditionalist at heart. $55 from Urban Lil.


Luxurious scents to create her sanctuary at home. $60 at Six Air.     
Gifts Beyond $100
Bake artisan sourdough bread together to relive those childhood memories in the kitchen! $100.


Sneak these stunning flowers to a mother who always feels guilty about splurging on herself. $175 from Yilian Ng Floral Atelier.


A most perfect gift for the most stylish of mothers -- art, heritage and style! $150 at Binary Style.


The most glorious musical tickets for a mother who is a romantic at heart. $115 at Marina Bay Sands' Theatre.


Paying homage to her Peranakan roots - - but with a modern twist! $159 from Soon Lee.