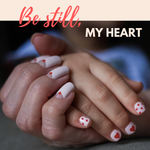 When was the last time you practised self-love as a habit? We're not talking about offering yourself some TLC once a year on your birthday. Self-love should be practised as a habit, for the more we love and care for ourselves, the easier it is for us to extend love and patience to others. This Valentine's Day, may you never, ever, ever put yourself last on the priority list. 
When quality time with one's little one doubles up as one's pampering session, mothers all around the world rejoice! Featuring Be Still, My Heart, Nodspark's Valentine's Day design that comes with a matching set for kids, show your little Valentine how pampering ourselves is a therapeutic treat! 
The Outcall Spa should be on speed dial for every busy and tired woman. When you've a never-ending to-do list, the thought of battling traffic or taking a long train ride to a spa could be enough to put you off. You definitely deserve a rejuvenating Swedish Massage, and yes it can be scheduled at 11:30pm in your own bedroom!
The magic of Handmade Heroes' Butt Kickin' Deep Detoxing Coffee Scrub cannot be explained, it has to be experienced. Start the mornings right and get your coffee fix in the shower. Unlike many other chemical-laden beauty products, every single skin and body care item from Handmade Heroes is all natural, vegan and filled with botanical oils and extracts. 
In our journey of loving, empathising and connecting, we are very often hurt, and we often harshest to ourselves. Dr Brené Brown's books on vulnerability, courage, shame and empathy are New York Times bestsellers that would be balm to your souls, and revelation to your minds. 
Workout because you love your body, not because you hate it. And since it takes an average of 2 months for habits to form, what better way than starting at your own pace, and at your own home. These bite-sized Fit Sphere programmes are by Liv Lo.