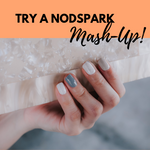 Hands up, if you have chipped your nails on the very same day of your $40 manicure! And are you also guilty of feeling bored with your gelish manicure, barely 2 weeks after staring at the same polish day after day?
How do you elevate your manicure for the weekend? And how can you have more fun more with your Nodspark designs?
Here's sharing what we've learnt...
1. Pair a vibrant, happy shade with a complementary darker solid.
The surprise of fun contrasts makes everything better. If you're not ready for a full flush of bold, summery shades, a few pops of complementary dark solids help tone down your look. 
2. Stick to the same colour, but of varied shades, and throw in some sparkle!
Don't be afraid to contrast an intense shade with a much lighter shade. Flourish solid colour with a finger or two of patterns, glitter, shine, or just anything that takes it up a notch.
3. Follow a neutral colour palette and mix a few of our subtle nail art designs. 
There's something about neutrals which make them so easy to mix and match, and the entire ensemble is altogether polished. A definite picture of classic sophistication!
4. Choose subtle, oh-so-similar solid pastel colours. 
Compelled to stick to your workplace culture's strict guidelines? Let your solid wraps give you extra creativity mileage. Alternate powder blue with soft greys, or do a graduation of nude, white and crepe pink.
5. In your seemingly chaotic mash-up, keep one colour consistent. 
Nail the asymmetrical mash-up by ensuring that one colour is repeated much more frequently on one hand than the other. Notice that glitter cheekily pops up on a solitary finger on each hand.
The most important guideline? There are no rules in Nodspark Mash-Ups! Don't let the worry of perfection steal your joy in having fun.