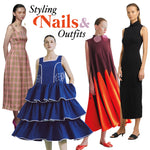 Everyone is unique in their own way — and there's no two people that are the same. That's the beauty of having different styles and personalities: there's never one that fits all. Which goes the same for clothes, accessories, and nail designs of course. We have got you spoiled for choice!
We've sorted out a list of Nodspark options to best fit your personality, and we hope it'll make deciding much easier. But if they all call out to you, don't hold back from trying all the styles.
The Artist
Are you drawn to colours? Do crazy designs and patterns call out to you? If that's the case, you'd want to check out our Designer range of nail art, which are all original hand drawn options to pair with loud personality and style. The more colours, the better, right?
Designs: Kitsune Fox, Disco on your nails, Gone Camping
Dress: LIE via SocietyA
The Minimalist
These are for the ones who like greys, whites, creams — keeping to a certain palette is tough, but also translates to a chic, classy and well put-together look. It's also the safer option for the corporate workplace, nothing too boomz and goes well with the CBD 'OL' look. Although, since we're all working from home now, a little colour and going off tangent from the creams won't be too much of a problem. 

Either way, Nodspark's got your back, girl 💛
Designs: Classic Nude Peach, Classic Cream Ivory, Greyhound Hue
Jumpsuit & Duchess Drop Earrings: The Missing Piece
The Superstar
If you're all about nailing being glam for the gram, and want sparkle from head to toe, here are some picks we'd like to bedazzle your look with. We've got gold foils, glitters in all colours to help you spice things up. If you're not looking for colours, we've nailed sleek yet sophisticated options that also have that glam element. So take your pick!
Designs: Tanglin Rose Gold, Everyday Glam, Nodspark x Paula's Choice
Dress: Tibaeg via SocietyA
The Animal Enthusiast
Can't get enough of your fav furry animals? Now's your chance to take them along with you. Animal-lovers ourselves, the Nodspark team has taken it upon us to share the love with our community. From feisty felines to cute bunnies, we've also got our shiba inus and sneaky tigers in tow. Nail your look with a little adventure with these furry friends.

Designs: Kitty Dreams, Tiger Dreams, Bunny Dreams
The Crazy Plant Lady
Green fingers club, unite! Florals are a must-have in anyone's Nodspark stash, and if you're a crazy plant lady that has a little garden growing at home, I think this might be of interest to you. There's so many types of plants and flowers out there, and it might or might not be our goal to translate as many as we can into nail designs.

We've got leafy vines, colourful numbers, pastel florals and even abstract options, so you can rest assured, there's definitely one for you.

Designs: Floral Symphony, Rosebuds, Nonya Peonies
Jumpsuit: The Missing Piece
Get your Nodspark On
There's never one style that fits all, and we're all about shaking things up and trying new styles — you won't know what looks good and what you really like, till you try it. We hope we've unleashed the spark in you to give our designs a shot!

Find more styles on www.nodspark.com