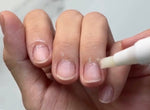 Having beautiful nails takes more than just a manicure (and gorgeous nail wraps of course!). Being consistent in your daily nail routine is just as important as skincare! Here are some tips from us that we find super useful to keeping your nail health in check.
1. Trim Nails Often
Trimming your nails help to prevent nail breakage, especially if you're one to use your nails to open products (which you should refrain from too!). Filing them down to your desired shape also prevents chipping!
Shop above: Nodspark Nano Glass File
2. Use Cuticle Oil (Not-so-secret secret to keeping your nails healthy!)
Cuticle oil keeps your nails and nail beds hydrated - so you won't have dry peeling skin surrounding your nail. Daily moisturising also prevents signs of early ageing around your fingertips, as most nail technicians, manicurists and even grandmothers will tell you! 
We keep a spare tube of cuticle oil within reach, always! Sometimes it's at our study table, sometimes it's in our handbags. You might just find one under our pillows as well! 
Shop: Handmade Heroes Mighty Oats Cuticle Oil
3. Trim Excess Skin
In order to neaten your cuticles, we'd recommend using a quality cuticle pusher to get a clean push back of overgrown cuticles.
Shop above: Rui Smith Cuticle Pusher
Using cuticle nippers helps removes unwanted skin and cuticles easily, as the small cutters are able to reach the otherwise unreachable specific areas. This also rids hang nails, since it prevents you from pulling it further.
Shop above: Rui Smith Cuticle Nipper
There you have it - our top 3 tips to keeping healthy nails! Super easy and fuss-free, just like our nail wraps. See how we do it ourselves too - here. 
For nail care and accessories, shop here.