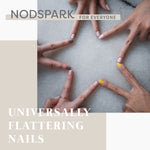 "My nails are too ugly for Nodspark," said no one ever.
As real, multi-hyphenate women ourselves, we know that me-time is a luxury. Few of us have so much time on our hands to explore which nail extensions and techniques could best accentuate our nails. Whether you have long or short fingers, narrow or wide nails -- Nodspark was made to be universally flattering. 
Most crucially, life precedes us. Some of us are veterinarians, nurses, family chefs, rock-climbers and preschool teachers. We couldn't imagine peeling oranges or wiping our children's snotty noses with stiletto nails. 
Rather than wait for your nails to grow out, why not embrace the low-maintenance fabulosity of short nails? If you'd like to elongate a wide nail bed, you could shape your nails with a rounder finish.
 Click each image if you can't wait to cart out!
1) Short in length & regular width
Pizza Lovin' has the best of both worlds -- subdued tonal blues and delicate pops of our favourite food!
2) Very short length & regular width
Whoever said that dainty nails can't be glamorous? Benjamin Blue Glitz proves otherwise -- let the maximalist in you collide with practicality. 
3) Regular length & slim width
On the other side of the spectrum, long and narrow fingers look picture perfect in Sage in the City. To achieve the universally flattering squoval effect, simply file round corners on square nails. 
4) Long length & wide width
Together with a soft, squoval shape, the pastel palette of Sunshine Colour Chart adds a feminine touch to larger nails. 
No matter your nail shape, remember not to shy away from experimenting with new styles and colours. The beauty of Nodspark lies in how you can rock every style, with little fuss and skill!