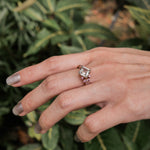 A Chocolate Gems Art Deco Ring x Nodspark Creative Collaboration
Send us your most creative take on this ring for a nail wrap set. Winner gets to keep this stunning 1.5ct green amethyst surrounded by pink sapphires in 18K rose gold-plating (UP. $275) and a $200 Nodspark Online Credit Voucher.             
As a bespoke private jeweller,
Chocolate Gems
brings you into an exclusive world of distinctive handcrafted, personally sold jewellery. Part of the third generation of a family of private jewellers, Archana Patel loves working with both precious and semi-precious gemstones to create unique, vibrant and colourful jewellery. The ready-to-wear collection, which changes constantly, consists of pieces that are mostly one-of-a-kind. She also enjoys working with you to create jewellery of your choice.                      
Contest details: 
2. Tag 5 friends in the Instagram post
3. Design a set of nail wraps for 5 oval finger nails either on
Digital (PDF or AI), or
On a piece of paper (medium used is up to you! It can be watercolour, colour pencils, nail polish etc)
4. Submit your art work to us by
27 September 2019
at hello@nodspark.com with your full name, contact number, age, and occupation.
You may choose to focus on the colours, shapes, sparkle of the gemstones, etc., or anything that picks your fancy. 
The key considerations on the winning design will be based on:
Wearability
Creativity
Originality                                                                                                                                                                                                                                                 
Other things to note:
- Contest is only opened to residents residing in Singapore
- Winner gets a one-time ring resize that comes together with the winning ring
- Contest closes on 27 September 2019 at 23:59HRS
- Each person can submit up to 3 entries
- Winner will be announced on IGS on 1 October 2019
- Winning design may or may not be made into mass production- discretion will be left entirely up to the team behind this contest
All the best!