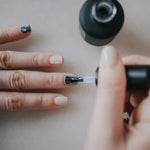 This article was written in collaboration with Jiayan Chiu from Cardable. Find out more at the end of the article.
Self-care comes in many forms and to some of us, it might mean having a set of beautiful nails. It is amazing how well-groomed nails could do wonders for one's mood and confidence, especially when there is a special occasion coming up! Afterall, who can resist a perfect manicure and pedicure? However, with it comes the price of enduring long hours at the nail parlour and more which many of us might not have the luxury of. 
With Nodspark nail wraps, you can easily give yourself a fuss free manicure at home, saving time and money. Not only will your nails look professionally done, it is mess-free, no drying time required, no chemical smell and even smudge-free! Think of all the time you can save from spending at the nail salon for other more important things! 

Whatever special event you are preparing for or even just heading back to the office after the work-from-home days, glam up your nails in just 10 minutes with the many beautiful Nodspark nailwrap designs, including nail art and glitter available! 
1. Weddings 
Whether you are the bride, mother of the bride or part of the bridal party, you have the option of going classic with a regular French or Reversed French manicure or choose to jazz up with the finer details on these floral nailwraps here.

Want to glam things up? These glittery chic options here are perfect! 

2. Birthdays
It's your birthday and time to give yourself a birthday treat! Birthdays are a reminder of your dreams so it's the perfect time to Dream in Glitter with this lovely set of nailwraps or add some cheer to your nails with this Sunshine print. Prefer something more vibrant? 
Check out Whimsical Garden for joyful colours to brighten your day! Otherwise, some sparkly galaxy on your nails with the beautiful blue and gold accents of this Space nailwrap will remind you that stars shine the brightest only on the darkest of nights!
3. Celebrations
Add a touch of glamour to any celebrations - be it a new house, an engagement, achieving a personal goal and more - with some glitter! Sometimes one just can't wait to celebrate! Do away with the appointment booking at the nail salon and get your nails all done up for your celebration with the perfect nail wrap. Designs like the Dusky Glitter Pedicure or the Maya Half Moon are subtle but chic enough to take you from office to party seamlessly. 

_______________________________________________________________
Read also: Planning a celebration? Check out these dining deals for some sweet savings!

_______________________________________________________________
4. Holidays
Whether it's that long-awaited holiday or the well-deserved staycation break, kickstart the vacation vibes with some shimmer like the holographic
Party on your Toes
or the perfect burst of whimsical colours peppered with sprinkles of gold foil with
Wrapped with Love
. Heading for a resort stay? Get in the mood with some sweet
Summer Blossoms
on your nails. 
Psst: Yearning for a quick getaway? Check out some Klook deals for staycation discounts more!
 5. Normal Days
Sometimes, regular days need a perk-me-up to make the days brighter and easier. Boost your mood with some of these cheery nailwraps that are also fuss-free enough for your day-to-day routine and tasks.
Draw inspiration from
these
soft hues with hand-drawn floral motifs or put a smile on your face with some
Street Fancy Gems
!
_______________________________________________________________
About Cardable | Cardable is the faster, smarter way to shop the best out of your credit cards. With more than 2,000 discounts and promotion codes active anytime, Cardable handpicks shopping discounts, dining promotions, travel deals and more to help your credit cards add that extra value to your pocket. Use Cardable. Your credit cards will thank you for it.