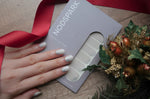 We've made a shopping list in hopes to make your shopping experience a lot easier this Christmas! Have a friend who ain't got the time for any beauty salons? We're here to make an impression for your gifting needs. 
Read on to help you decide what gift to get your loved ones this Christmas! 
1. For the person who loves nail art | Nodspark, $15
You'd want to surprise this person with a nail art that would otherwise take 4 hours to achieve, versus 15 minutes! Some designs that we'd suggest-
(Left: Poppy Petals; Right: Lavender Frosty)
Current promotion: Buy 5 get 15% off the Christmas and Tattoo Collection which runs till end-Dec 2022, so enjoy the promotion when you cart out more! 
(Left: Pop Icon; Right: Spring Blossoms)
2. For the person who loves a good scrub | Handmade Heroes Body Scrub, $21.90
Hands down the best body scrub our team has tried and loved. We stock these up in our homes and swear by it to wake up to baby smooth skin the next morning after use (without the greasy feeling). For coffee lovers, the Detoxifying Coffee Scrubs are a must; and for everyone else, the Rose Petals Body Scrub is a sure winner! 
3. For the person who loves nice lashes but ain't go no time for the salon | Lashes On Demand, $79
Because not everyone has got two hours to spare at the lash salon to get them extension on, these Lashes On Demand are a great option for a shorter commitment than having lash extensions on for a full month. 
The best part? You're not stuck to one lash look for the whole month! Decide if you'd want a more natural look for a casual date out, or opt for a more dressy set of lashes for an event, because you can with these quick clip-on lashes.
They do not require glue nor eye liner. Simply use the applicator to clamp the magnetic lashes on to your natural lashes, and you are good to go! Removal is as easy as pulling the magnetic lashes off from one end, and no natural lashes are harmed while at it. It is pretty life-changing! 
Shop all Lashes on Demand styles here.
 4. For the person who walks around the house with a wet back after their bath | Hair Towel Wrap, $24
Wrap your hair up neatly and say goodbye to dripping hair or heavy body towels holding your hair together and weighing it down in the process. Hair Towel Wraps are a must-have these days for its efficiency and light weight. We'd recommend getting at least 2 of them so you'll never be caught without a hair towel wrap when one set needs to be washed! 
Shop Hair Towels here. 
Promotion: Buy 2 for $38 (UP. $48)
We hope this Christmas Gifting list has been helpful with your Christmas shopping! Share this out to your parent who need help choosing gifts for you and your sibling, or a friend who is stuck not knowing what functional gifts to buy this season. 
Shop at Nodspark HQ
Our Nodspark HQ is open for walk-in shopping till 23 Dec 2022 (weekdays only), between 11am to 4pm.
Address:
Balmoral Plaza, #02-13
271 Bukit Timah Road, Singapore 259708